Testimonials for Hettie Rowley's Art Classes
Vicki Paku
​I had the privilege of being in Hetties' art class in Perth. It was the highlight of my week, not only was I improving my drawing skills it was like meeting up with friends each week. I was able to produce work that I didn't think I could ever do, under her guidance. Hettie introduced me to drawing with coloured pencils which has become my favourite medium. I would absolutely recommend her to anyone wanting to learn, to think about your subject, to look at things differently, and be excited about what you will be doing each lesson.
Vicki Pakau
Katie Siryj

Thank you for the very informative and thoroughly enjoyable watercolour class today. I've already learned so much and had a few misconceptions cleared up, as well. I'm excited about the new "dark" colour combinations that you introduced and am eager to try them out! Thanks, again. 🙂
Katie Siryj
Hilary Robertson
I was lucky enough to attend Hettie Rowley's mixed media classes for about a year and found them to be inspirational and exciting. She encouraged me to stretch my imagination by trying new things and was very helpful in developing my skills both in watercolour and in acrylics. She is not a teacher who sits and paints in her lessons – she is hands on and constantly coming round the class to advise, help and encourage so that your work takes on new dimensions.
She is brilliant at advising on colour mixing and helping to correct mistakes.
I found her classes friendly but professional and I would highly recommend anyone wanting to develop their skill levels, or wanting to paint in a friendly atmosphere with like-minded people, to attend her classes.
Perth's loss is Brisbane's gain!
Hilary Robertson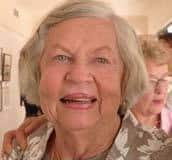 Sjoukje Tarbox
hi Hettie, I very much enjoyed you as my teacher and would certainly join any future classes with you. Your enthusiasm and knowledge of both theory and practical were of great help to me. I was able to experiment with many modalities, I,e watercolour, acrylic charcoal, a taste of oil drawing and sketching, your knowledge and experience in all of the above is extensive and in your gentle way of helping me was of great benefit to me. You are missed here in Perth however your future students will be fortunate to have you as their teacher. I wish you all the best and I am sure you will be tremendously successfull. Much love Sjoukje
Sjoukje Tarbox
Sue Logan
I attended art classes with Hettie for about a year when she lived in Perth and can thoroughly recommend her as an art teacher.
During that time we painted in watercolours and acrylics and I enjoyed the fact that Hettie gave me the freedom of content, style and colours, which I found a great help. The classes were relaxed and professional and Hettie always made time for individual tuition. I feel that my painting improved greatly during her classes and I was very disappointed when she left Perth.
If Hettie should ever return, I would have no hesitation in attending her classes again.
Sue Logan
Lynley Liepins
Hettie is a wonderful teacher. She taught me so much about drawing and watercolour painting with her wealth of knowledge, patience and commitment. Her classes were informal and relaxed but also very professional.
I would most definitely do classes with Hettie again and recommend her to anyone.
Lynley Liepins
Jolene Hollingsworth
It is nice to hear from you Hettie and how lucky people will be to have you as their new art teacher. You taught us how to hold the pencil in a certain way which helped to create a more sensitive composition.
The classes were always friendly and informal and professional. The way to simplify a composition was a very important area which you (Hettie) explained well. Various mediums were also used such as charcoal, inks and coloured pencils.
The subject each week was very interesting and I would recommend Hettie as an art teacher to both beginners and advanced students.
Jolene Hollingsworth